Written by Eugenia Raluca Manea
Sunday, 07 March 2010 12:15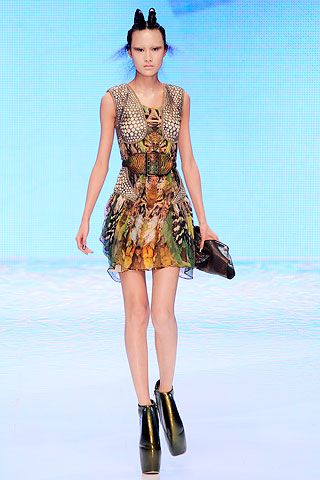 As I already said before i did not know Alexander McQueen. I think few people can boast that they truly know him. I did not know about him more than what he create and presented but his latest collection Spring-Summer 2010 It struck a sensitive chord. Since I saw the first model on the catwalk I wince amazed. I was proud and mute of admiration and astonishment.

The three drawings of mine that you can see there along with Alexander's creations are part of a collection created in 2002 into the fourth-year of Art University (back when McQueen was not such a well known designer).

At that time, I shocked and muted the fashion teachers... I took another resounding 10 and created again as a mystic pilgrimage to my end of semester exhibition. It was fun ... They were all a little banned ... Doubtful between praising my imagination or beeing critical because of the eclecticism and lack of practicality of the models. They caress and touch the drowings when I was not watching and scratch their heads of wonder ...

I remember even that the TV presenter Gianina Corondan camed remained open-mouthed in front of my sketches, and after that her cameraman did shot my sketches for 10 minutes. It was very interesting, during the entire show she spoke of all the years in the University but she just keep showing only my fashion drawings.

I was happy when I saw the McQueen collection. It was like a dream come true. He transposed into reality the concept of what I only dream and sketched in 2002.

I heard a great foreign fashion designer saying that it is useless for a designer to be fashion-forward, if you create something ahead of the others ... The real important thing is to create that something exactly at the right time ... It seems that the right time was just over 8 years ...

However Alexander's creations are far beyond what I imagined, but they make me feel good and think it somehow he was a good friend of mine with who at least in terms of artistic vision I had a lot in common. What I deeply regret is the fact that this was his last collection. I would have liked to see if such coincidences would be repeated. It would of been a challenge.

I regret that I did not really know him and I continues to take his defense against this petty world that criticizes his weakness forgetting that genius is always accompanied by high sensitivity.
Last Updated on Tuesday, 09 March 2010 10:15